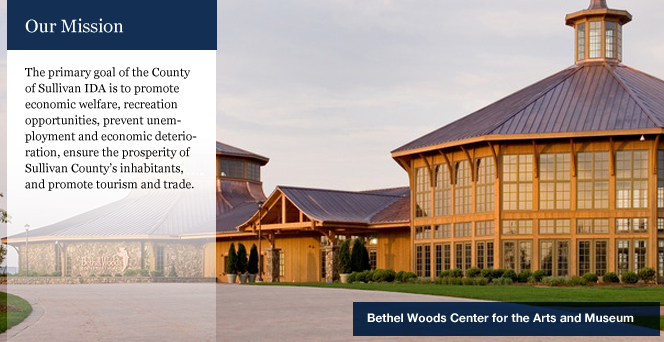 Sullivan By the Numbers
Jonathan Drapkin and Eric Pierson of Hudson Valley Pattern For Progress presented their research at the County of Sullivan IDA meeting on August 13, 2018 which provided us with a Sullivan County Baseline Assessment. Their study covered many areas from Sullivan County's overall population statistics with regards to age, workforce, race & ethnicity, as well as the fluctuations of population over the last 18 years. Hudson Valley Pattern For Progress recommended that housing, transportation, broadband and connectivity and downtown revitalization are the key areas that require time and attention going forward. You can view their presentation and findings here.
Our Mission 
The County of Sullivan Industrial Development Agency's primary goal is to promote economic welfare, recreation opportunities, prevent unemployment and economic deterioration, ensure the prosperity of Sullivan County's inhabitants, and promote tourism and trade.
The County of Sullivan Industrial Development Agency (IDA) was created by an act of the New York State Legislature in 1970, as a public benefit corporation of the State of New York, under Section 906 of the General Municipal Law, to grant tax abatements and to help advance such projects.
Industrial development agencies were created in New York State to attract and enhance industrial and economic development, help create jobs and maintain economic stability within municipal or regional boundaries.  Because New York's Constitution prohibits municipalities from making gifts or loans to private companies or individuals, the creation of IDAs provided a viable mechanism to accomplish commercial, recreational, and industrial development goals.  Support of a healthy economy, the creation and retention of jobs, on a local, regional and State level is an important policy objective.
"This institution is an equal opportunity provider and employer."